This guide to choosing a rock climbing harness is for the Average Joe and Josephine climber. If your latest project is a 5.14b of mono pockets and two-finger pinches, you've clicked on the wrong article. We are mere mortals here.
I also write this guide for the families of climbers! As my own family has bluntly informed me, "We hate buying you climbing gear." They don't understand the jargon or the features. Why would one harness cost $50 and another $200? I am required to share a link to the exact product I want for Christmas, or I'll just get socks. Yuck.
So as one climber to another, let me break down what I've learned about rock climbing harnesses and their features: Which features are beneficial for the recreational climber, and which features are better left to the competitive circuit.
A Brief Introduction to Rock Climbing Harnesses
If you've never worn a climbing harness before, here's the Sparknotes version of what you need to know!
Climbing harnesses are unique from caving, construction, and tree climbing harnesses. Generally, they are NOT interchangeable. However, some climbing harnesses can be used for limited caving or canyoneering; check your manufacturer's instructions.
All rock climbing harnesses have the same basic features: a waist belt, two leg loops, gear loops, and a belay loop that connects via two tie-in points. Any legitimate rock climbing harness is certified by CE/UIAA. Do not buy a non-certified harness! (Looking at you, eBay).
Climbing harnesses are incredibly strong – but the only strength-rated attachment points are the upper and lower tie-in points and the belay loop (15 kN or ~3,370 lbs). Neither the leg loops nor the gear loops are rated to hold a fall. Gear loops may only be rated for 10-20 lbs!
Rock climbing harnesses can be specially designed for gym, sport, trad, ice, big wall, or alpine climbing. Don't assume that the most expensive harness is the best! A $50 all-around harness is a much better choice for a beginner than a $150 featherweight alpine harness.
---
What I Wish Someone Would Have Told Me About Climbing Harnesses
Comfort Is King
I am a thoroughly average climber. In my prime, I could struggle up a 5.11d executing 2-3 ugly moves at a time. So as someone who has spent a lot of time "hangdogging," I can attest to the importance of a comfortably fitted harness. Comfort, NOT WEIGHT, is king for anyone not gunning for a sponsorship.
If you've never hung or rappelled in an uncomfortable harness … consider yourself lucky. It is a unique form of masochistic torture. 
You can't always determine comfort from a picture. If you are especially slim or thick, tall or short, I highly recommend you visit an outfitter gear store and try on a climbing harness in person. Many outfitters, like REI, even have specialty stations where you can hang in a sample harness.
P.S. Rumor has it that most women's harnesses have additional padding (like how women's sleeping bags usually have extra insulation). Men, there's no rule that says you can't buy a women's harness and enjoy the extra cushion, too.
Double-Back Buckles Are a PITA
My first harness, a Black Diamond Momentum, had a classic double-back buckle design. I didn't hate it – until I tried out my second harness, which had a speed buckle. Then I hated it because I knew what I missing.
There are two basic styles of harness buckles:
Double-back buckles (also called double-pass), which relies on the webbing being re-threaded through the buckle
Speed buckles (also called quick-adjust or autolocking), which rely on a clever buckle design to pinch the webbing in the event of a fall.
Black Diamond's double-back design is not known as one of the best. It was impossible to finagle in cold weather when wearing gloves. Even in warm weather, it was difficult to cinch back without sitting on the tailgate of my car and sucking in my stomach (you should have no more than a 2-finger gap between your waist and the belt).
But many modern harnesses now have quick-adjust buckles. They use a clever buckle design that pinches the webbing together once loaded. No rethreading is necessary – just tug the webbing tight, just like a backpack strap!
No design is perfect. Here are the pros and cons of a speed buckle on a harness:
Speed buckles have a reputation for wearing out faster than double-back designs.
Some tend to slowly loosen up, especially when walking long distances.
And while the classic double-back buckles can be undone completely, making it easier to pack and stash the harness, a speed buckle is difficult to disassemble; the end stays captive.
But Dual Buckles Are Wonderful!
When I say "dual buckles," I mean a waist belt with two buckles, one on each side. Because of their weight and cost, these aren't common on entry-level models; you'll find them on Misty Mountain, Mammut, and other advanced big wall harnesses.
Here's why I love them: You can adjust left and right sides equally so the tie-in points stay centered. If your waist is at the larger side of the spectrum for your harness, this is incredibly useful. Otherwise, one set of gear loops will be rotated too far back for easy reach.
I like dual buckles because I climb in summer (80 degrees) and winter (15 degrees). My waist is quite a bit "poofier" in my ski bib! With dual buckles, I can center my gear loops regardless of my waist size. 
P.S. This is another reason to choose a harness with adjustable leg loops. You can adjust the fit if you're wearing shorts, pants, ski bibs, or mountaineering pants. Better yet, you can share your harness with a friend!
Don't Chase After Weight Savings
Leave it to the professionals and critics to count grams like Scrooge counts coins. I like heavy harnesses.
Heavy harnesses are comfortable harnesses.
Heavy harnesses have plastic gear loop covers, extra padding, adjustable leg loops, and extra gear loops.
Heavy harnesses last for a long time, and I'll gladly trade ounces for durability.
Consider the Black Diamond AirNet, developed for the 2020 Olympics in collaboration with Adam Ondra. It's a marvel of engineering weighing. It weighs just 235 grams. That's not much more than a heavyweight T-shirt! 
It's also $170, and quite frankly, I wouldn't buy it – because the very features that make it such a great competition sport harness make it unsuitable for a casual climber. I want a padded waistbelt, adjustable leg loops, and a fat belay loop I could hang a truck off of. The AirNet would sacrifice its firstborn child at the altar of weight savings. 
You Can Never Have Too Many Gear Loops
Gear loops are like pockets and potato chips: You can never have too many.
Two loops are adequate for sport cragging.
Four loops are fine for single-pitch trad climbs
But multi-pitch trad and aid climbs are much easier with 6+ gear loops especially if you don't have a dedicated gear sling or chest harness!
Personally, I would avoid any harness with less than four gear loops. They're only suitable for competition lead climbing or indoor gym climbing. When used outdoors, they're like bringing a knife to a gunfight. 
Just be aware that a big wall harness is kind of like cargo shorts: Eminently practical, but dorky.
P.S. If you're into aid climbing, make sure the rear loop is rated for the weight of a haul line. And there should be a slot for a hammer, too.
P.P.S. If you're into hard ice climbing, the harness should include 2x ice clipper slots to readily access ice screws. But there's nothing wrong with clipping them to your regular gear loops, either.
Double Belay Loops Help You Stay Organized
Belay loop real estate can get pretty crowded. A single belay loop has been the standard for a long time, and they're perfectly adequate for 95% of the climbing out there.
But if you want to try out aid climbing, multi-pitch trad climbing or canyoneering, double belay loops are helpful – not essential, but helpful. They'll help keep your tethers/belay devices/daisy chains/knots well-organized and easy to inspect. This is not just convenient; it's also safer.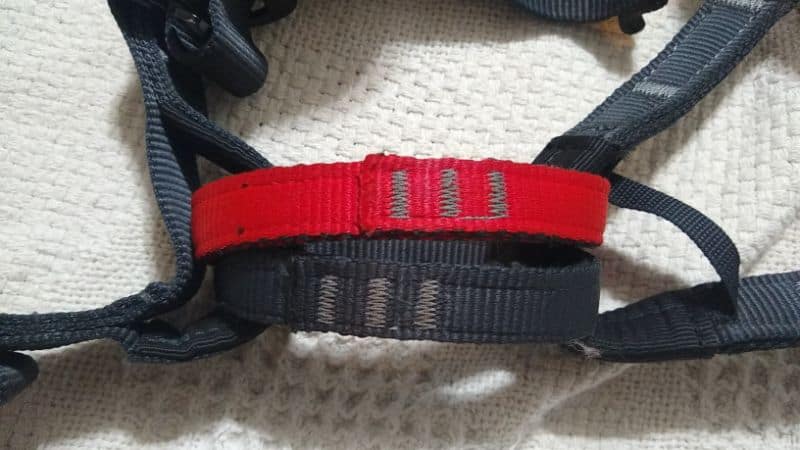 Double belay loops are hard to find outside of big wall harnesses, though. I did find one sport climbing harness with double belay loops: the Metolius Safe Tech. 
It's Worth Splurging on Safety Features
Harnesses wear out just like every other piece of equipment. 
Harnesses generally last 3-10 years. Refer to your manufacturer's instructions for details, but most will insist that a harness be retired within 10 years, regardless of cosmetic condition.
Inspect the condition of your harness before EVERY use. Frayed webbing, a damaged buckle, deep cuts or abrasions, cat pee, other chemicals – any smidgen of doubt means retirement! 
It can be difficult to discern whether a harness is at the end of its useful life. A few innovative manufacturers have added wear indicators to their webbing. The Mammut Ophir 3, for instance, has a different-colored thread in the belay loop that once exposed marks the end of its lifespan. 
***
Oh, and one last piece of advice:
Buy a spare cheap harness for your friends. You never know who will want to climb with you!